August 17 and 18, 2024
10am – 4pm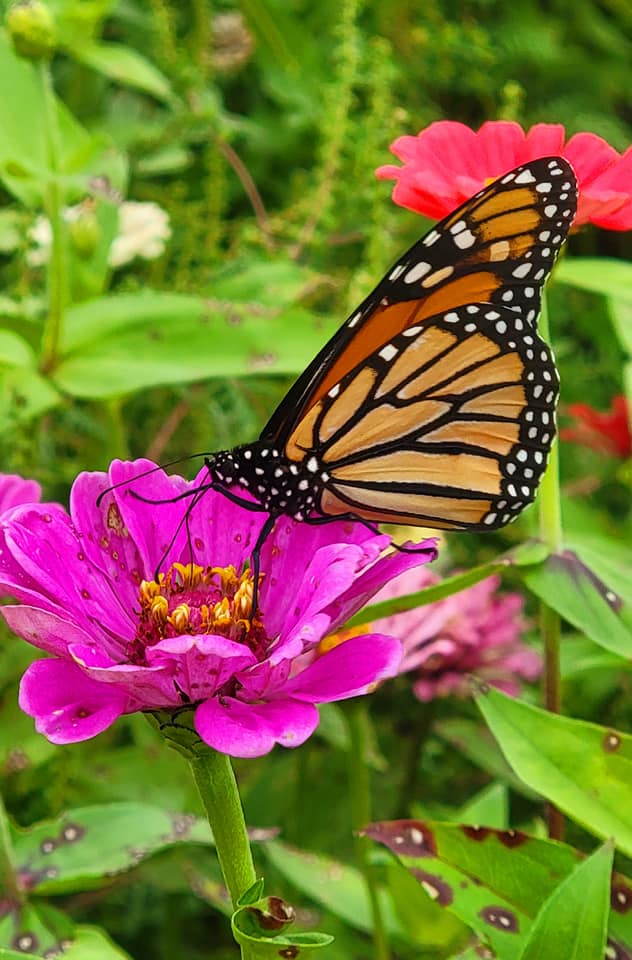 We look forward to your visit
As a working farm, we are only open to the public for a couple events, and this is one of them! 
Why a Butterfly Experience?
After the drought of 2022 when we had to cancel our Sunflower Farm Fest we had to reinvent the wheel and came up with holding a Butterfly Experience.  So regardless of any of our flowers being hit hard by Mother Nature , we can still offer a relaxing and enjoyable time on the Farm. And for a good reason, The World Needs More Butterflies!
Butterflies are Beneficial to The Environment
The majority of plants need pollinators like bees and butterflies to reproduce.
If butterfly populations diminish (or disappear altogether!), the impact will be felt higher up and can affect the entire ecosystem.

We have ample parking on the farm for our guests.  Handicap parking available with a placard.

This is a Rain or Shine Event
The show must go on, even if it rains. 

No Refunds or Date Changes
We are a small working farm, and due to logistics we are unable to offer refunds or date changes.

Dogs/Pets are Not Allowed
For the health and safety of your dog/pet and our farm animals and lavender, we do not allow dogs/pets to be brought onto the farm.
August 17 and 18, 2024
10am – 4pm
Due to the high costs to maintain and keep our farm beautiful we charge for admission to our events. We want you to come visit, relax, and enjoy the views and peacefulness of our farm. It truly is a piece of heaven.
Thank you for supporting our farm and our family.  Your support keeps us being a farm for another year.
We are a working farm and only have public on our property during select parts of our growing and harvesting seasons.  The only way to visit our farm is during one of our events with a ticket.
Butterfly Releases are at 11am and 1pm on both days.
EARLY BIRD PRICING ENDS JUNE 30, 2024 or when we sell out. Whichever comes first.
EARLY BIRD PRICING
General Admission
Admission *
Ages 3 and up
Ages 2 and under are free
EARLY BIRD PRICING
Farm Fan Package
FREE Admission
A Lavender Lemonade
$5 Shop Coupon
Farm Products
PLUS: Your Choice of one of these items:  a Dried Lavender Bundle, or Dried Lavender Buds, Lavender Salt or a Lavender Sachet
Farm Fan Packages may include a Lucky Bag.  Whats a Lucky Bag?  Surprise items will be in several Lucky Bags each day containing various items such as free tickets for a 2024 event, coupons for Lavender Ice Cream, or pony rides or vendor items.  Bags could be worth up to $100.
A $37.90 value and worth more if you happen to get a Lucky Bag
We've planted sunflowers to peak during our Butterfly Experience.  Providing Mother Nature treats us right, we'll have sunflowers of all shapes and colors available to cut.
$3/stem
$25/10 stems
$40/20 stems
Pay at the Farm


Address
69 Summit Street
Holden MA 01522
Located on 33 acres in Central Massachusetts, overlooking Mount Wachusett and horse pastures. Come enjoy a farm with stunning views. We are a private working farm and are only open to the public during our events.